Twitter is rolling out edit tweets option but Indian users should not get too excited: By choosing it and then clicking the more options button, you may check whether a recently posted tweet is still accessible (it looks like three dots). Users who have upgraded to Twitter Blue may edit their tweets by selecting "Edit tweet."
Twitter is finally implementing an Edit button that will allow users to alter their tweets after they have been sent. This functionality is already available on Facebook, Instagram, and YouTube. It's finally coming to Twitter, but maybe not in the manner you expected. To begin, only Twitter Blue subscribers have access to the Edit button. This implies that the function is only accessible to a limited number of users, and even then, only in locations where it is paid for (such as Australia, Canada, and New Zealand). Twitter has said that the functionality would be accessible in the United States shortly.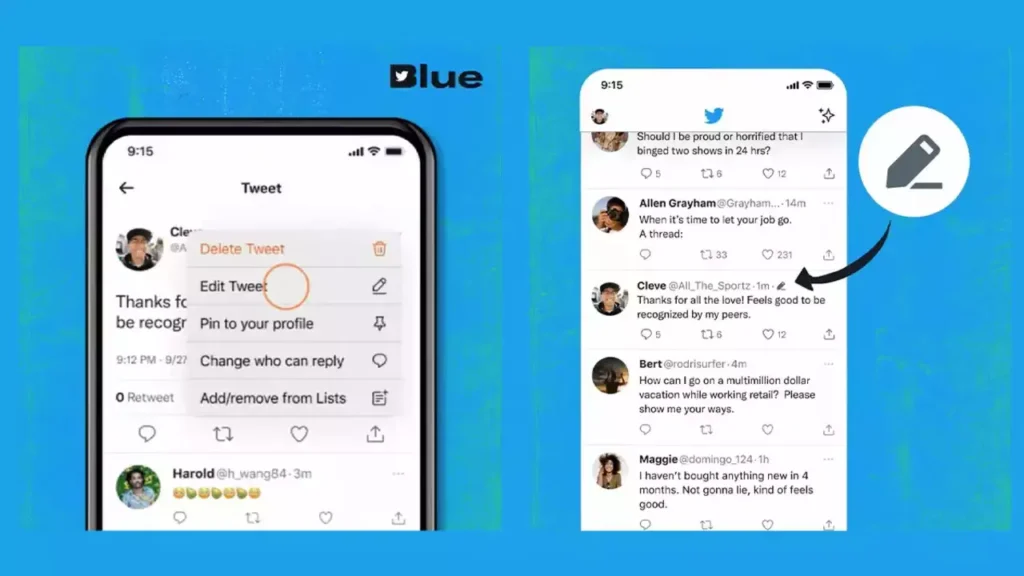 Twitter has not said when the Edit button would be accessible globally, and there is currently no information available that is unique to India. The capability was also shown in a series of tweets made by Twitter Blue, the company's official account. Even if you use Twitter Blue, you must always use the most recent version of the programme.
Click on a recently posted tweet and then on the "more options" icon to check whether it is accessible (it looks like three dots). Those who have upgraded to Twitter Blue may edit their tweets by clicking a "Edit tweet" button. When you're finishe, click the "Update" button. According to Twitter, a new editable tweet symbol will appear next to an edited tweet. It also serves as a link, allowing readers and viewers to observe the history of modifications. It's worth noting that Facebook used to provide a service similar to this one. Finally, the Twitter Edit option is only available for the first 30 minutes after posting a tweet.
The Edit button is finally online, over a month after Twitter initially said it would add one. It's a popular request, but the platform has been hesitant to implement it. In reality, Twitter's previous CEO, Jack Dorsey, has said that the site has no intentions to include a "Edit" button. According to The Conversation, if Twitter featured a "edit" button, users could update their tweets even after they were retweet or like. Another reason why the Edit function was remove was because the four most popular Twitter clients (TweetDeck, TweetBot, Twitteriffic, and Echofon) service over 6 million users and do not display modify tweets in real time.
However, now that it is an option, they will have to pay for the opportunity to do it.
You may like reading following news:
Mukesh declared heir to Ambani empire
Health department's new guidelines to stop irregularities
All services of Transport Department are now online
The high court returned the list given by the primary education board
Modi and Amit Shah targeted by Nitin's com
Bimal Mardi is a Professional Content Writer. He works in First Santal Broadcast Network TV/ News  channel in India. Bimal Maradi writes about Technology, Education and Tech Product Reviews